13 PC Industrial Journeyman's Hole Saw Kit
This Promotion has ended.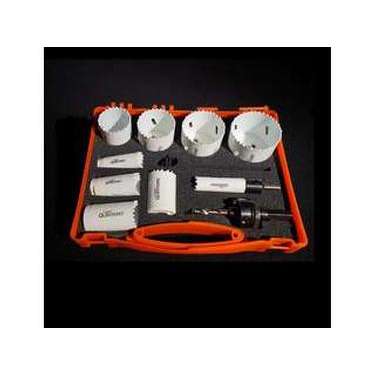 Sawblade.com offers a 13 Piece Industrial Grade Hole Saw Kit for outstanding performance and life in all materials and applications.
Save $15.00 and Free Freight
Features and Benefits
Bi-metal blades feature a 8% Cobalt tooth edge for increased wear resistance, welded to a precision machined steel backing plate through a state of the art automated welding process. This process results in a hole saw blade that makes precise cuts while resisting tooth breakage. Quintero hole saws are industrial grade used on ferrous and non-ferrous metals.
Tooth edge is a 4/6 variable tooth configuration. This provides a smother, faster cut on a wide range of materials
Rugged Tooth design, regarded as the strongest tooth in the industry
Backed by the sawblade.com 100% Satisfaction Guarantee
13 PC Industrial Journeyman's Kit
M42 Cobalt BiMetal Hole saw
13PC Journeyman's Kit includes:
1 Small Mandrel - ¼" 1- Large Mandrel - 7/16" hex shank 1 Mandrel Adapter 1 HSS Pilot Drill 3/4" (19mm)
7/8" (22mm) 1-1/8" (29mm) 1-3/8" (35mm) 1-1/2" (38mm) 1-3/4" (44mm) 2" (51mm) 2-1/4" (57mm)
2-1/2" (64mm)