QSAW Industrial Carbide Circular Saw Blades
Quality & Performance backed by Sawblade.com
Qsaw Industrial Circular Saw Blades are designed to deliver the highest performance in the industry. We use the highest grade carbide, precision laser cut blade bodies & state of the art industrial brazing techniques. This makes the for a premium blade designed for industrial use and to increase productivity.
- QSAW CUTS COOLER: When cutting steel, Qsaw blades will leave a workable finish, our carbide blades run cooler and with few sparks. This allows you to handle the material quickly after the cut; no more waiting for the metal to cool down as required with other carbide or abrasive blades.
- QSAW CUTS FASTER: Qsaw blades simply cut faster than other carbide or abrasive blades. Our Qsaw steel blade can cut through mild steel plate quickly with few sparks.
- QSAW LASTS LONGER: other carbide and Abrasive blades wear down quickly. This limits cut quality and cut times. Qsaw Carbide Blade can reduce cost and time. The Qsaw Carbide Circular Saw Blade can last as long as 20x or more than other products.
- QSAW CUTS ACCURATELY: other blades can to flex and "walk" during a cut. Qsaw uses a laser cut blade body that is designed for accuracy and precision.
- QSAW CUTS SAFELY: no excessive dust, fumes, or smoke make for a safer work space. Qsaw blades produce fewer sparks and will run cooler. We put the all the heat in the chip! This will give you an overall safer alternative in your cutting operation.
CB VC QSAW VC1028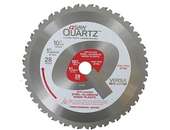 10" x 1" x 28T Versa Blade
QSaw Versa Blade
Multi Purpose Blade
QSaw Versa Cut Blade
Multi Purpose Blade
10" x 1" x 28T Versa Blade
The Versa Cut Blades is a 10-Inch Tungsten Carbide Tipped Multipurpose Blade.
This blade is capable of cutting through steel, aluminum, wood with nails in, and plastic.
Meant for use with the Trajan DM250 and Evolution RAGE Machines
Product Details

photo below
Blade Diameter
10 in
Blade Type
Versa Cut
Brand
Qsaw
Material to Cut
Versa-Cut
Arbor Diameter
1 in
Kerf
0.078 in
Max RPM
2750
Number of Teeth
28
Tooth Type
Carbide
CB VC QSAW VC1052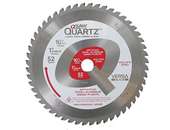 10" x 1" x 52T Versa Blade
Versa Saw Blade
Multi Purpose Blade
Versa Cut Saw Blade
Multi Purpose Blade
10" x 1" x 52T Versa Blade
The Versa Cut Blade is a 10 Inch Tungsten Carbide Tipped Multipurpose Blade.
This blade is capable of cutting through steel, aluminum, wood with nails in, and plastic.
For use with the Trajan DM 250 and Evolution RAGE Machines
Product Details

photo below
Blade Diameter
10 in
Blade Type
Versa Cut
Brand
Qsaw
Material to Cut
Versa-Cut
Arbor Diameter
1 in
Kerf
0.078 in
Max RPM
2750
Number of Teeth
52
Tooth Type
Carbide